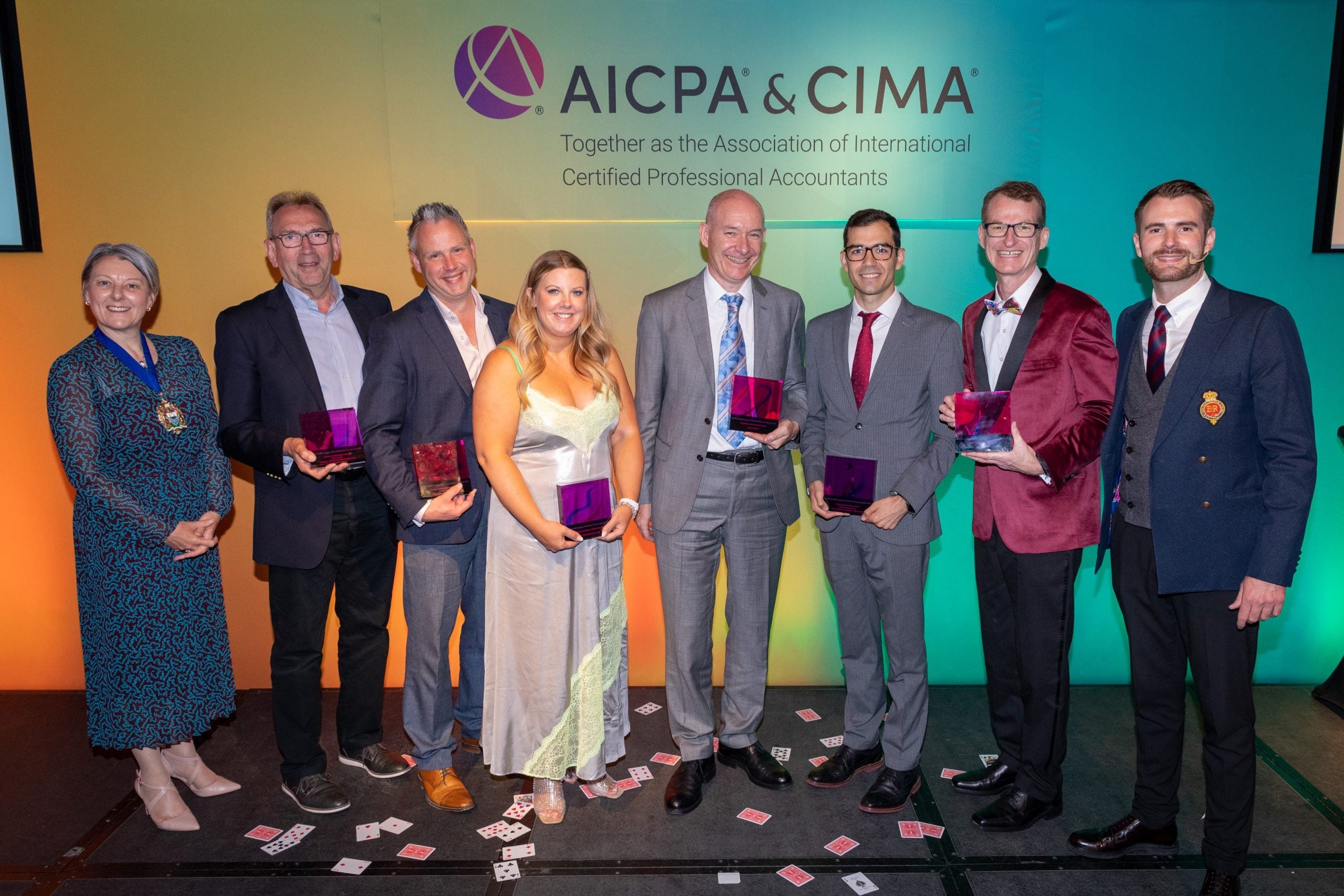 The winners of the 2023 ENGAGE Finance Awards were announced on 15 June in a ceremony at Glaziers Hall in London.
The 2023 ENGAGE Finance Awards celebrated the achievements of CGMA candidates, CIMA members, and partners. They put the spotlight on individuals and teams who have done outstanding work to enhance the accounting and finance profession and build its future. They were decided by CIMA members who have extensive experience in the field of the category which they are judging.
The winners each received a specially commissioned trophy, created by Birmingham Art School. The school ran a competition to design the trophies and art student Canaan Brown won. Each trophy is a slightly different design, giving the winners a unique award which they can truly treasure.
This year's winners are:
Rising Star of the Year: Ferran Diego Tortosa, Senior Finance Consultant at IBM UK Ltd
Ferran has made a huge impact at IBM. His in-depth knowledge of finance operations has enabled him to understand his client pain points and envision solutions to add value to their finance organisation. This, along with his track record of outstanding project delivery, has helped build the IBM Finance brand within the finance advisory consulting services market.
Digital Innovation Project of Year: Lumos 365 Ltd
Lumos 365 is a CIMA Member in Practice and Microsoft Partner technology business that has developed an industry vertical ERP solution "Lumos 365 Platform" for the Energy and Natural Resource sectors. The project has digital technology and applications at its heart. It can be used to improve existing business processes, efficiency, business models and enhance customer experience.
Finance Business Leader of the Year: Bradley Channer, Chief Financial Officer UBIO Ltd
CFO of UBIO, a fast-growing, venture-backed tech company, Brad built the entire company's infrastructure, finance function, and strategy from scratch. He designed and implemented a growth strategy, built the company's first bespoke financial model, installed the company's first set of budgets and sales targets, rebuilt the company's EMI options program, built HR and training policies over 6 different countries, and built the company's first reporting for the board and shareholders.
Small, Medium Enterprise (SME) of the Year: Ashmere Nottinghamshire Ltd
Ashmere Nottinghamshire Ltd is a small group of elderly residential homes. During covid, Ashmere created wooden chalets which were covid secure due to non-touch heaters, lights, and security. These chalets were in the style of a pub, a tearoom, a nail and Prosecco bar. Judges were impressed with the winner's very human element to the normal business focus and emphasis on employment and training opportunities focused on their local area.
Public Sector Team of the Year: University Hospitals of Derby and Burton NHS Foundation Trust Finance
Judges chose the winner for excellence in their field, showing exceptional skills, expertise, and effective teamwork. The Finance function at University Hospitals of Derby and Burton NHS Foundation Trust involves 148 people in finance and procurement of which 88 relate to the financial services & financial management team.
Lifetime Achievement Award: Nick Jessett, Director, The Montserrat Academy Ltd
This is the inaugural lifetime achievement award. It was awarded to Nick not only for years of excellent service to the Council and to his local area and branch but for his outstanding contribution to creating, launching, and delivering the AICPA & CIMA mentoring scheme.
Sarah Ghosh, FCMA, CGMA, CIMA President and Co-Chair of the Association of International Certified Professional Accountants, representing AICPA & CIMA, said:
"The incredibly high standards and exceptional achievements displayed by this year's award winners shows that the accounting and finance profession is in good health, and that we have great talent coming through for the future. I wish to offer my warmest congratulations to all the winners, and I look forward to seeing what they go on to achieve next with great interest."